3.5/4

1/4

1.5/4

4/4

2.5/4

2.5/4

2/4

2.5/4

2.5/4

3.5/4

2/4

2.5/4

2/4

1.5/4

1.5/4

2/4

2.5/4

1.5/4

2/4

2/4

2.5/4

2/4

2.5/4

2/4

2.5/4

Next 25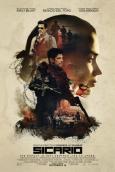 Sicario

2.5/4 stars
Del Toro: *bang* *bang* "oh well, they were just drug dealers."

Blunt: "you can't do that, its against the law!"

A na´ve federal agent gets swept up in covert black-ops actions against Mexican cartels. She must choose between sticking to the letter of the law, or punishing those responsible for the carnage which has ravaged the lives of thousands. Josh Brolin plays a carefree mercenary type who is almost cheerful in his cynicism toward the law. Del Toro plays a much darker and mysterious character bent on revenge and warped by the violence.