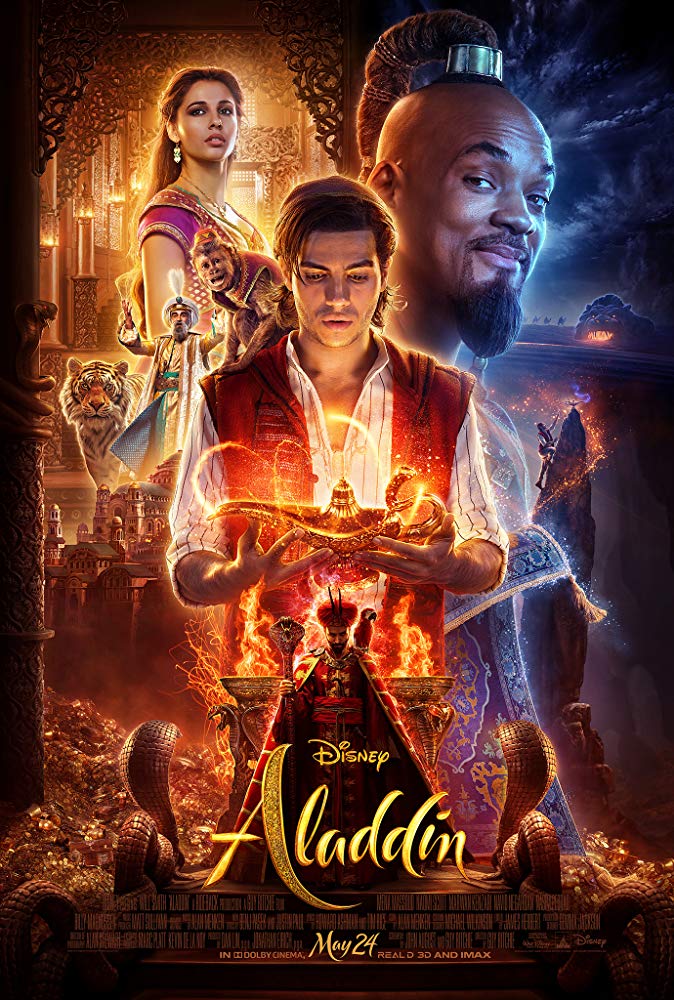 Aladdin (2019)
Solid if slavish remake of Arabian Nights tale.
Indyfreak - wrote on 05/28/19
Guy Ritchie's effects heavy remake of the Disney classic is a colorful warmhearted family adventure that improves some elements of the 1992 animated film. But unfortunately, lags far behind in other respects.
The faifthfulness to the original cartoon is admirable overall. The exotic setting of Agrabah is beautiful to look at and the costumes are lovely. Ritchie is less ott in his direction than his earlier fantasy effort, King Arthur: Legend of the Sword.
Contrary to online anxieties, Will Smith is pretty good as the Genie-mainly in his live action self. Once viewers get past the elephant in the room that Robin Williams is irreplaceable. In fact, the only jarring moments in his portrayal are when Smith references Williams' iconic performance. Mena Massoud is serviceable as Aladdin but his singing skills are mediocre. Standing out head and shoulders above the leads is Naomi Scott as Princess Jasmine. Her performance has the makings of a breakout star. She's beautiful, feisty, charismatic, and compassionate. It also helps she can carry a tune very well.
The weakest link in the main cast is perhaps the film's biggest problem. Their reinterpretation of Jafar. Marwan Kenzari is awfu as Jafar. His shrill voice and mincing mannerisms pale in comparison to the sly cunning Disney gave one of their all time greatest villains. The climax is not as elaborate as the cartoon one and it makes you wonder if they spent too much fx money on Genie's transformations.
The movie surprisingly works best as a romantic comedy instead of a fantasy adventure. The budding attraction between Aladdin and Jasmin is sweet and even the Genie is given a love story with one of her handmaidens.
It's good enough entertainment for families. For better or worse, it reminded me how good the 1992 animated movie was then and remains now to this day.