1/4

3/4

3/4

1.5/4

1/4

2/4

3.5/4

3.5/4

3/4

1.5/4

2.5/4

3/4

1/4

3/4

2/4

0.5/4

1/4

3/4

3/4

2.5/4

2.5/4

1/4

1.5/4

3/4

2.5/4

Next 25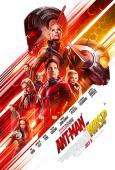 Ant-Man and the Wasp

3/4 stars
Scott Lang suits up again as Ant-Man in this lively sequel.
While he's perfectly fine as the everyman protagonist, Evangeline Lilly stands out as his partner Wasp/Hope van Dyne. Newcomers Laurence Fishburne and Michelle Pfeiffer are great while Hannah John-Kamen is an intimidating antagonist as the shape-shifting thief Ghost.
Its story is more ambitious than the first movie but the pacing is rather uneven. The first half is pretty slow but it finds its stride once the stakes are established and the climactic chase scene is a lot of fun.