1.5/4

3/4

2/4

2.5/4

3/4

3/4

2/4

3/4

2.5/4

3/4

1.5/4

2/4

2/4

1.5/4

2.5/4

3/4

3/4

2/4

2/4

3/4

3/4

2.5/4

2.5/4

1/4

3/4

Next 25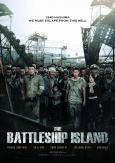 The Battleship Island
Korean reworking of THE GREAT ESCAPE
2.5/4 stars
THE BATTLESHIP ISLAND is a gritty and rough edged mix of the war epic and prison drama genres.
Inspired by true events but heavily fictionalized, the story begins with the militaristic Japanese forcing Koreans to mine for coal on a remote island during World War 2. Various Korean characters are gathered at the treacherous mining outpost, Hashima Island. But the barbaric conditions and relentless cruelty at the hands of their Japanese overlords leads the workers to rebel and plot a daring escape. But the desperate workers face obstacles and unexpected betrayals along the way.
Its story is far too bloated with one too many subplots. But the action scenes are intense and often very bloody. The finale is especially brutal. A highlight is a claustrophobic nail-biting scene in a collapsed mine.
Due to the long running time, there is an overabundance of characters who are hard to keep track of. However, some do leave an impression. Hwang Jung-min is endearing and likable as Lee, a devoted single father and neurotic everyman trying to survive; Song Joong-Ki is the heroic freedom fighter; and the standout is So Ji-sub as the terse criminal turned leader. This guy reminded me so much of a young Christopher Walken.
It's a gripping story and although I am not fond of its excessiveness, the final moments are surprisingly moving.