3.5/4

3/4

3/4

1.5/4

2.5/4

3/4

1.5/4

3/4

1.5/4

3/4

3/4

1/4

2.5/4

1.5/4

3.5/4

2.5/4

2/4

3/4

2.5/4

3/4

1/4

3/4

1.5/4

3/4

2/4

Next 25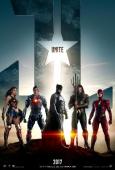 Justice League
You Can't Save the World Alone
3/4 stars
******SPOILERS BELOW PLEASE BEWARE SPOILERS BELOW*****

The Justice League is finally here after a notoriously troubled production and the exit of its original director Zack Snyder under tragic circumstances. Avengers maestro Joss Whedon assumed the role at WB's behest and while his directorial experience doesn't tie all the loose ends together, Justice League remains an entertaining if unevenly assembled superhero movie.
The plot picks up after Superman's death and the world is now at risk of another alien invasion. This time by the bloodthirsty tyrant Steppenwolf (a CGI Ciaran Hinds). Batman and Wonder Woman race to assemble a new team of superpowered humans (Flash, Cyborg, and Aquaman) to confront this otherworldly threat.
If anything is to be commended about Justice League, it's the cast. They're solid as action heroes and rock solid working together. The action scenes emphasize the importance of teamwork. Interestingly though, some of its best moments are just with the JL members talking to each other.
Ben Affleck remains a worthy successor to Christian Bale as Batman, far more likable than in BVS. Gal Gadot is the standout as Wonder Woman. Jason Momoa is having a blast as Aquaman. Ray Fisher and Ezra Miller play the youngest members, Cyborg and Flash. Both do fine when they're enjoying themselves. However, sometimes, Fisher plays his alter-ego Victor Stone a tad wooden. Ezra Miller plays the role of Barry Allen/Flash with glee but his hyperactive manic performance offsets the dramatic moments he does have in some parts of the movie.
While most of what works in the movie makes it fun, what doesn't work remains glaringly noticeable. Unfortunately, the choice of antagonist Steppenwolf is utterly uninteresting despite his imposing design. This is due to the CGI for his character being standard at best and Steppenwolf's motivations being murky. His demonic minions look better and are more menacing. A second issue is the pacing. It's become knowledgeable now that WB cut the film down from a longer running time of perhaps 2.5 hours to roughly two hours at best. While this does make it a quick sit, the movie's first half takes too much time and then it's a mad rush to the third act and its obvious reveal.
Speaking of which, I'll REVEAL THE THIRD ACT TWIST. PLEASE STOP READING IF YOU MANAGED TO AVOID SPOILERS THIS LONG. Superman does come back to life and for purists, this is the closest Henry Cavill has been to the classic image that Christopher Reeve trail-blazed. It's great to watch. One is left hoping that Cavill is given another chance in the future.
It's true that JUSTICE LEAGUE is not the next AVENGERS. That may disappoint some people and leave them underwhelmed. If it had a better villain and a better sense of pacing, it'd be a strong contender for that title. But as it is, it is a step in the right direction as set by the superior DCEU film Wonder Woman.