1/4

2/4

3.5/4

3.5/4

3/4

1.5/4

2.5/4

3/4

1/4

3/4

2/4

0.5/4

1/4

3/4

3/4

2.5/4

2.5/4

1/4

1.5/4

3/4

2.5/4

2.5/4

3/4

3/4

3.5/4

Next 25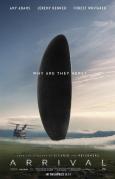 Arrival (2016)
Arrival is not your average UFO movie.
3/4 stars
Part science fiction and part psychological drama, ARRIVAL follows a linguist (Amy Adams) assigned by the government to determine whether or not mysterious extraterrestrial visitors are friend or foe. The problem is their language is nothing resembling any form of human communication on Earth. No pressure, right?
Amy Adams carries this movie, often not even speaking but just with her soulful gaze and bright eyes. Jeremy Renner and Forest Whitaker provide strong support as her colleague and military supervisor respectfully.
The movie does not have much in the way of action. But Denis Villeneuve makes the most mundane and practical actions seem cinematic. The first encounter with the aliens is an intensely drawn out sequence. Instead of explosions and destruction, the movie emphasizes expression and dialogue to move the plot forward.
And yes there is a twist to the proceedings. It wouldn't be a brainy alternative to typical genre fare without one. It's not overly complicated or obnoxiously obvious (looking at you Interstellar).
If you want to be entertained and intellectually engaged this winter, Arrival is a great place to start.