3/4

1.5/4

3/4

2/4

2.5/4

3/4

3/4

2/4

3/4

2.5/4

3/4

1.5/4

2/4

2/4

1.5/4

2.5/4

3/4

3/4

2/4

2/4

3/4

3/4

2.5/4

2.5/4

1/4

Next 25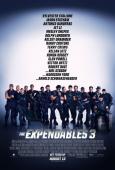 The Expendables 3
So what about The Hague again?
2.5/4 stars
I was ready to totally hate this movie for the pg13 rating and the new cast members overshadowing the original crew but to my surprise, the third installment in Stallone's franchise of affectionate throwbacks to 80s action flicks is not as bad as I surely thought it was gonna be.
The film does still suffer from the downgraded rating. You can clearly see it was originally supposed to have been R-rated but what appear to be the more violent scenes are conveniently cut off before they show anything gruesome. But it strangely does still push its rating as far as it can go which is nice with the violence and language.
Also the film's larger budget is put to better use with the action scenes which are all gigantic in scale compared to the last two movies. The climactic battle involving the Expendables and an entire army is exciting and a lot of fun. The opening action scenes feature a prison break on a runaway train and a shootout that pretty much destroys the whole country of Somalia. Director Patrick Hughes is a more confident director this time around and it shows. However, the cgi is pretty bad and there are some shots that look like they were taken straight out of a Call of Duty game.
As for the new and younger characters, they are just not that interesting. It's not their acting per se but their presence which is non-existent. Victor Ortiz, Glen Powell, and Kellan Lutz are boring while Ronda Rousey is very very sexy whether when wearing a red dress or killing people with her bare hands but again she's boring.
Luckily, the veteran actors they bring in this time are way better and far more memorable. Harrison Ford is as grouchy as ever but he does get some funny moments. Wesley Snipes is as cool as ever and you wish he had more screen time.Antonio Banderas was hilarious as hell! Mel Gibson practically walks away with the entire movie as the villain, a mercenary-turned-war criminal, and reminds everyone onscreen and in the audience that while he is crazy he's still talented. In fact, in all Gibson's scenes with Stallone he's just walking all over the guy's acting chops
I am happy to say that the returning cast is still great together and you curse the screenwriters for leaving them on the sidelines for 30 minutes especially when you know they're gonna return in time for the climax. That's the primary issue with this movie. If they had cut out the whole subplot with the new crew, we would probably have the best installment yet and that very thought will remain in viewers' minds after they watch it. Thank God part 4 is guaranteed to be rated R this time.