3/4

3/4

1.5/4

1/4

2/4

3.5/4

3.5/4

3/4

1.5/4

2.5/4

3/4

1/4

3/4

2/4

0.5/4

1/4

3/4

3/4

2.5/4

2.5/4

1/4

1.5/4

3/4

2.5/4

2.5/4

Next 25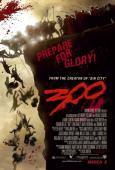 300
This...Is....Stupid!!!!!!!!!!!
1/4 stars
This was the cinematic equivalent of the Macarena. An example of filmmaking that was so dam popular but it vanished as soon as it arrived and if anyone brings it up, they are seen as out of touch or weird.
Remind me again why this movie is so popular? Sure it's got some good action scenes but so does every Michael Bay film ever yet he's as hated as Hitler. Is it cuz of the story? A bunch of closeted exercise junkies didn't want to share their pad with the new neighbors? Give me a break. Is it the acting? Yelling and screaming like a WWE announcer does not equal an Oscar worthy performance. If that was the case then Daniel Day Lewis should give back his 3rd one.
What kills me most is how psychopathic, xenophobic, and fascistic the living conditions are in Sparta but they're seen as the good guys who saved Western Civilization or whatever in this movie. It's a teabagger's wet dream come alive in celluloid fashion.