3.5/4

0.5/4

3/4

2.5/4

1/4

0.5/4

3/4

0.5/4

0.5/4

2/4

1.5/4

2/4

3.5/4

1/4

1/4

1/4

2.5/4

2.5/4

3.5/4

1/4

3/4

1/4

2.5/4

3/4

3/4

Next 25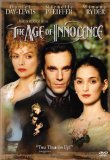 Age of Innocence, The (1993)
The Age Of Innocence
0.5/4 stars
This is a really old-fashioned, formal movie, about a guy who marries a young woman, all the while being in love with her cousin.
This movie wasn't bad or anything, it's just not my type of movie. It didn't really interest me in the slightest, as nothing very interesting happened in the movie. And, the end left you wondering - what has been resolved? The answer is nothing. So, in my opinion, the movie is pretty pointless.
Oh, and even though Winona Ryder was in this movie (who I love) she couldn't even improve the movie.