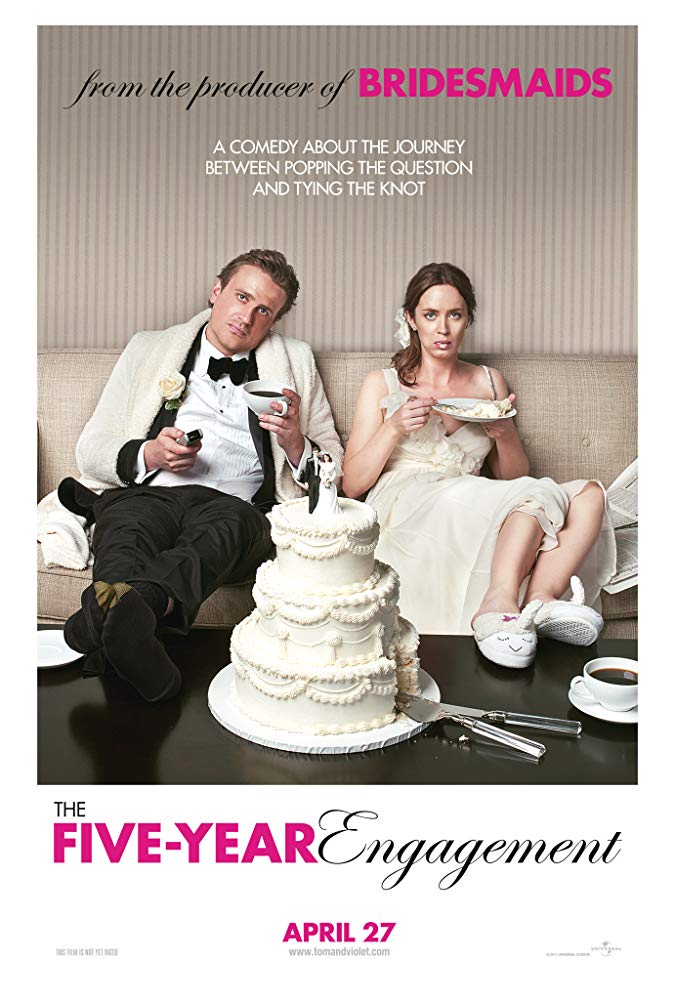 The Five-Year Engagement
Dramedy!
MovieAddict - wrote on 09/22/12
Jason Segel and Emily Blunt play Tom and Violet, who met at a New Year's Eve party and got engaged exactly one year later. Tom is a talented sous-chef about to be promoted to the enviable position of top chef at a trendy San Francisco restaurant, while Violet is a psychology graduate student hoping to win a postdoctoral fellowship at Berkeley. Berkeley turns Violet down, but she eventually wins a fellowship in a two-year program at Michigan.

Tom willingly gives up his much-sought-after job and moves cross-country with Violet but the delay of their wedding and the growing friendship between Violet and her handsome and suspiciously charming Professor does not bode well for this couple as Tom struggles to fit into his new surroundings, eventually landing a lowly job at a sandwich shop. As the years pass and Violet's tenure extends indefinitely, she becomes increasingly aware of Tom's unhappiness, which manifests itself through his sudden passion for deer hunting, sweater knitting, his overall dismissal of his appearance, and the fact that he ate a stale donut. She suggests that they finally start planning for their wedding, with the intention of getting him out of his funk. But just when things get back on track, an incident occurs which threatens to derail their relationship altogether.

Chris Pratt stars as Tom's obnoxious best friend, Alex who has become the head chef of the restaurant Tom used to work at and Alison Brie as Suzie, Violet's sister who has a one night stand at their engagement party that leads to Susie becoming pregnant with Alex's child. Thus Alex and Susie decide to tie the knot. This movie would have been better off, if the middle act wasn't so stretched out so much but it has its comic moments.