2/4

2/4

2.5/4

2/4

3.5/4

2.5/4

2/4

2.5/4

2/4

2/4

2/4

3/4

3/4

3/4

2.5/4

2.5/4

2.5/4

2.5/4

2/4

2.5/4

2/4

2.5/4

3/4

3/4

2.5/4

Next 25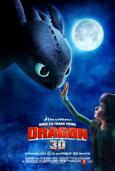 How to Train Your Dragon
A highly entertaining visual treat!
3.5/4 stars
Hiccup (Jay Baruchel) is a sarcastic young Viking who wants to be "cool" and demonstrate the strong and fearless Viking traits, but he's scrawny and doesn't fit in as a dragon-battling Viking; and as a result isn't anything like his dad, an intimidating and fearless Viking warrior chief, Stoick the Vast (Gerard Butler).

Against the better instincts of his father, he is allowed to enroll in a dragon-killing class with the other young Vikings, including Astrid (America Ferrera) a beautiful young Viking girl that Hiccup has a crush on. In a desperate attempt to be noticed by both his Father and Astrid Hiccup actually manages to hit a dragon with a lucky shot, but of course no-one sees him - and more importantly no-one believes him. Desperate to prove himself to all Hiccup goes looking for the evidence of his kill and discovers what he has wounded: a Night Fury, one of the most dangerous dragon kinds. (Picture the head of a catfish, the wings of a bat, and the tail of a dragon all the color of soot black. You will want one of these exotic Night Fury dragons for a pet!)
He prepares to slay the beast but is unable to bring himself to finish the task. Instead, he helps to mend the dragon's wings and brings it food. He gradually develops a cautious relationship with the creature whom he names Toothless and begins to learn the secret of dragons, where they come from, and why they raid the Viking village. As it turns out, it's not really their fault.

Back at the village Hiccup is able to use some of his "pet" knowledge to subdue the ferocious beasts used for training purposes, and with his new skills he becomes a local celeb "Dragon Whisperer", and ultimately wins the " Dragon Slayer of the year" award, but things get complicated when Astrid discovers his secret. Ultimately as usual the two are found out and Toothless is forced to lead the Vikings to the dragons nest and to what has to be one of the most intense and enjoyable action sequences I've seen in a while.

Besides the absolutely breathtaking background animations the overall CGI was excellent. Right down to the hair on the Vikings arms.