2.5/4

3/4

2/4

2/4

3/4

3/4

2.5/4

3.5/4

3/4

2.5/4

3/4

3/4

3/4

3/4

N/A

N/A

3/4

N/A

3.5/4

3/4

3.5/4

N/A

2.5/4

2.5/4

2.5/4

Next 25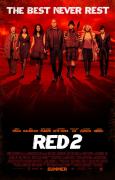 Red 2
"RED 2" by Yojimbo
2.5/4 stars
Frank and Marvin are targeted for assassination when a document appears online implicating them in a secret plot to smuggle a nuclear device into Russia during the Cold War.

RED 2 begins pretty much where the original left off as a one idea, one note film; namely that the action men and women are quite old. Thankfully as the story trundles on it adds more spice and colour in the shape of Byung-Hun Lee - the Korean star who provides all of the best action sequences - and Antony Hopkins' affable maniac who is always fun when he is on screen. Otherwise it's a similar cocktail of geezers with guns that resembles a geriatric Mission: Impossible.

It's still a one joke, one note film but the finale is done with enough humour and panache to make up for its more workmanlike moments and thanks to its guest stars is actually a little better than the first instalment.