3/4

2/4

3/4

3/4

2.5/4

3/4

3.5/4

3.5/4

3.5/4

1/4

3/4

3/4

3/4

1.5/4

3/4

3/4

2/4

3/4

3/4

3/4

2.5/4

2/4

2.5/4

2.5/4

2/4

Next 25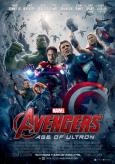 The Avengers: Age of Ultron
Summer Blockbuster that is crazy and mindless.
3/4 stars
Joss Whedon knows what the fans want. Being a summer blockbuster, it should not fall short of a visual spectacle. There in deed comes, Ultron for us. A visceral, heart filled, character driven, and mindless action blockbuster of the year. It is so less in terms of the original, may it be the nature of the plot, the driving action elements, and the wow factor, but still we have the heart to digest these characters and support them when in trouble. Whedon does not waste time in introducing characters, rather brings in a wowser of an opening act, where all our heroes battle for Loki's sceptor. Is it all retrieved in the first one? No it is missing and no reasons given. This is the beginning that tells us the story is recycled again. In the mean time, Stark aka Iron Man does not want his friends to die by the alien force, hence he designs with Banner aka Hulk, Ultron an AI that can put an end to all problems, so that he can rest his clunkier metal suits. But did not Iron Man 3 already show that, Oh No~ Avengers has a different world of storytelling. Don' think too much. Ultron backfires and puts up a battle against the Avengers to restore peace in the world.

Action wise, a hard hitting Iron Man Hulk (hulk Buster suit of Stark) and clash with Hulk in the first half drives the propensity this film has in store. But when comes to second half, most of the super heroes are wasted, because of the CGI driven metal army of Ultron. Can't deny the point that it is pointless fun, I expected a lot of from the heroes. That is where I was disappointed. May be the later sequels, will deny this fact.

In all, Age of Ultron is a smash to face kind of a summer blockbuster, where action takes a bold new level, to mark summer entertainment in the craziest way, yet ensured the humor and emotions are in place. Age of Ultron does not do the original, but a sequel that is proud to be the way it is. Generally second films are duds in the sequels, not Ultron.