3/4

2/4

3/4

3/4

2.5/4

3/4

3.5/4

3.5/4

3.5/4

1/4

3/4

3/4

3/4

1.5/4

3/4

3/4

2/4

3/4

3/4

3/4

2.5/4

2/4

2.5/4

2.5/4

2/4

Next 25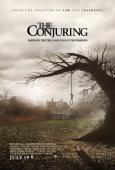 The Conjuring
Creepier, and energetic old school scare film
3/4 stars
Time to scream ! James Wan is back with another scare stuff. The Conjuring is another film with a simplistic take on the Hollywood horror dramas. But the helm of the film is taken by James Wan (the man who gave us Saw series and the Insidious, which gained quite good ratings). So is the new offering special from James Wan? Does it get to the basics right? Will it be loved by the audience? Let me give a deep smile for the questions. James Wan has proved he is best at it.

The Conjuring is a creepy film. Never get serious for the first hour of occasional thrills and spills, because there is loads of creep stuff given by Wan towards the next half. It is crafted with great energy and the ghostly, and horror stuff does a nice job. This film gives what generally a horror film fan wants. Loads of old-school scares at the right time and my goodness, Wan knows where to keep and where to not. I am surprisingly happy with the output. Well it might not hit the best exorcism scares, but it makes a better horror film of the year. I am totally ashamed of other try outs. James Wan is the bill boy for this.

When such a film with great energy comes, we need the performances to make us feel for their every scream and yell and try to go into them and think on caressing them if they are present nearby. Here Wan does again a superb job. Farmiga and Patrick are the best demonologist I could see and the exorcist act is so simple to understand, Wan creates the nerve rattling tension with Bishara's creepy score and thunderous effects to drive off the seats crazy. I had actually felt every shout, cry and agony there. This is what a tailor made film is all about. It gets the true score for the presence. The children in this film are lovely. They create the tension, as the things go wrong in their creepy house, with lot of rooms and basements including a cellar. Mighty design for the creep show! Luckily, there weren't dragged up moments, even though one might feel for its slower first half. It was intentional.

So finally, The Conjuring is the best horror film of this year. On my scale of creepy films, I give a big thumbs up for this film. James Wan knows that horror films are his fortress and it gets better and better. So it is just as thrilling, creepier and has the right mix of humor, savaging performances with exceptional old school scares. Halloween season, The Conjuring conjures for its materialistic beauty. It holds all the aces right.