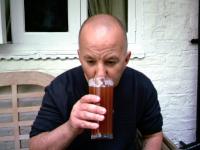 FilmCrave Points
| Activity | Points |
| --- | --- |
| Total Ratings | 0 |
| Total Reviews | 0 |
| Total Lists | 13 |
| Total Plots | 1 |
| Total Points | 61 |
Latest Friends
Alex
Movie God
Richard's Information
Ranking Status: TV Extra
Name: Richard Lloyd
Gender: Male
Home Town: Leeds
About Me: My name is Richard and I'm very happily married to Sheila. I love movies and old TV shows and now own over 1,500 DVDs. Been collecting for about ten years now and my collection increases for the week. I love all genres and all decades; even the days of Chaplin and Laurel and Hardy
Interests: Movies. Photography. Cycling. Boxing. Gardening. Old TV shows. Hiking
Movie Profile
Film I Love: SERPICO
Film I Hate: SPIDERMAN 3 - First 2 were brilliant, this was just too bad for words. Hope the re-boots are better
Guilty Pleasure: DVDs. I own over 1, 500
Favorite Genre: Western
Least Favorite Genre: Sport
Favorite Actors: Steve McQueen, Bruce Willis, Charlie Chaplin, Clint Eastwood
Favorite Director: Alfred Hitchcock
Movie Quotes: BLUES BROTHERS QUOTES: ... it's 106 miles to Chicago, we got a full tank of gas, half a pack of cigarettes, it's dark and we're wearing sunglasses ... ... its got a cop moter of 440 cubic inch plan, its got cop tires, cop suspension, cop shocks ... th

PREDATOR: Poncho: You're bleeding, man. You're hit. Blain: I ain't got time to bleed

GRAN TORINO: Duke: What you lookin' at old man? Walt Kowalski: Ever notice how you come across somebody once in a while you shouldn't have fucked with? That's me.
Recent Comments