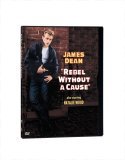 Rebel Without a Cause
James Dean Was A Rebel Without a Cause
4/4 stars
Rebel without a cause was a film in 1955, that had one of the most influential stars of all time, James Dean. While the movie is film of the times, I feel is one that I can't help but love the story and the characters that the film focuses on. Nicholas Ray is the person that helmed this project, and he knows to show a true depiction of teenagers. ...