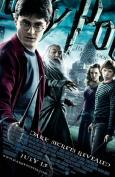 Harry Potter and the Half-Blood Prince
Harry Potter and the Ultimate Fail of Yates
1.5/4 stars
Back in November 16, 2001, the first Harry Potter movie, Harry Potter and the Sorcerer's Stone, was released. As a raging Harry Potter fan, I was skeptical. I had read the book so could you blame me? To my surprise, I was blown away, making me eagerly look forward to every release. None of the movies disappointed me – Order of the Phoenix was ques...