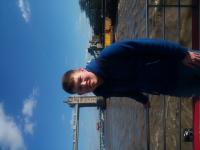 FilmCrave Points
| Activity | Points |
| --- | --- |
| Total Ratings | 78 |
| Total Reviews | 8 |
| Total Lists | 7 |
| Total Plots | 0 |
| Total Points | 176 |
Latest Friends
Jacob Ward's Information
Ranking Status: Rising Star
Name: Jacob Ward
Gender: Male
Current Area: White Oak, PA, United States
Home Town: Pittsburgh, PA, United States
Education: McKeesport Area High School Graduate Soon to be West Liberty University Bachelor's of Science in Integrated Communications Studies w/ Minor in Theatre Arts
Employer: N/A
Position: N/A - N/A
About Me: Soon to be Bachelor's Degree graduate in Integrated Communications Studies, loves creature feature and independent films the most, and enjoys a lot of interests and hobbies in general.
Interests: Films, Videogames, Screenwriting, Travel/Advertising, Autoracing, Pokemon, Wildlife/Nature, etc.
Movie Profile
Film I Love: Jurassic Park
Film I Hate: Hunger Games
Guilty Pleasure: Pokémon: Detective Pikachu
Favorite Genre: Sci-Fi
Least Favorite Genre: Crime
Favorite Actors: Ben Miller, Toni Collette, Sam Neill, Sarah Michelle Gellar
Least Favorite Actors: Shia LaBeouf, Chris Pratt, Jon Lovitz, Unsure
Favorite Director: I like a good amount, not one that I prefer more.
Least Favorite Director: There is a few, but I respect their efforts.
Latest Movie Review

Closely Watched Trains ( Ostre sledované vlaky )
Czech New Wave Cinema Overview

Closely Watched Trains is an international Czech new wave film that pushes the boundaries of the normal film experience. With the use of absurdism and surrealism, Jiri Menzel creates a great masterpiece. The opening scene is one of the most important aspects of the film since it portrays the film theories well. The part where Milos is referring to his grandfather Vilem, the hypnotist, he mentions how he tried to stop a military tank using hypnotism. What is interesting about this concept is that Czech new wave cinema uses comedy in a different light than most film eras. Usually comedy is shown through other scenarios in this theory compared to other cinema styles. The ending seemed to be very dark, but the experience watching the …