 FilmCrave Points
| Activity | Points |
| --- | --- |
| Total Ratings | 24 |
| Total Reviews | 21 |
| Total Lists | 2 |
| Total Plots | 0 |
| Total Points | 97 |
Latest Friends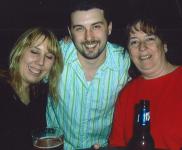 Josh C
Producer
Themovieman's Information
Ranking Status: TV Extra
Name: Darin Parker
Gender: Male
Current Area: raliegh, NC
Home Town: Raliegh, NC
Education: I'm in eight grade and have 5 A's and one B
About Me: Hi. Im a nice guy, who thinks who knows to much about movies. Im sure there are people better than me a criticizing movies, But im only Thirteen. And most of my friends say if there is somthing that i am REALLY good at is rating movies.
Interests: I like to fight, cook, criticize, write short stories, look at the little things in life.
Movie Profile
Film I Love: 1408
Film I Hate: cloverfield
Guilty Pleasure: Candy
Favorite Genre: Horror
Favorite Actors: Jason Statham, Adam Sandler, Jackie Chan, Chris Tucker
Latest Movie Review
Hellboy (2004)
DJ's review

Hellboy definitely keep my short attention span entertained. I think they could have added more background information. Besides that it was hilarious and had plenty of action. Meaning shooting, killing, and fighting and stuff that keep your average teenager happy.