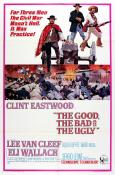 Good, the Bad and the Ugly, The ( buono, il brutto, il cattivo, Il )
The Good, The Bad, And The Ugly review
4/4 stars
Brilliant, brutal, exciting, haunting. These are a few words that describe Sergio Leone's 1966 masterpiece. This film is without a doubt, unquestionably, and undeniably one of the finest achievements by a director in the history of not only the western genre, but all cinema as well. Characterized by it's long takes, gorgeous landscapes, interestin...