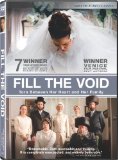 Fill the Void ( Lemale et ha'halal )
You don't have to do anything, darling!
3/4 stars
In this drama we met Shira, a 18 years old girl who is very excited about her arranged marriage. She met his engaged man and she liked him. But suddenly, when her older sister dies, the equilibrium of the whole family is on her shoulders when all her circumstance shows that the place in her life is to fill the void that her older sister left in th...