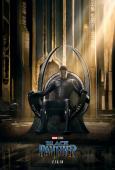 Black Panther (2018)
Black Panther is a masterpiece.
4/4 stars
Such a fantastic film that hits the right mark on so many things, I've seen the film twice and i'm still digesting what I witnessed in the theater. The direction, story, cinematography, acting, action and pace we're damn near flawless. It also has stunning visuals, just a visual treat. It's emotional, action packed, heartfelt and quite touching at...