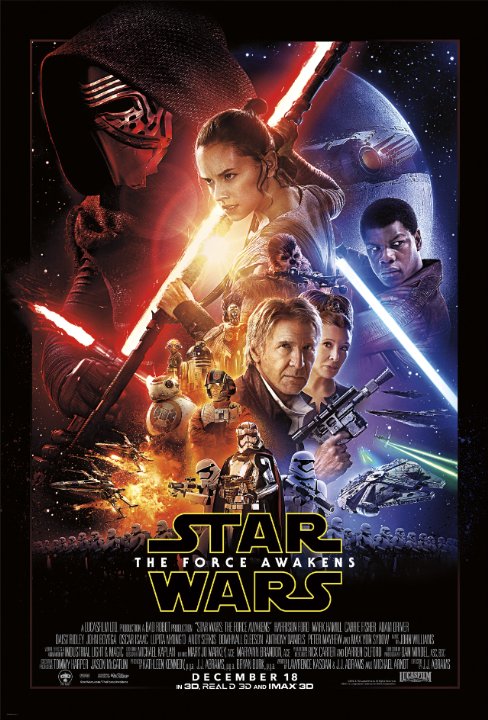 Star Wars: The Force Awakens
Star Wars: The Force Awakens review
Daniel Corleone - wrote on 01/01/16
Its hard not to be perceptive as a huge fan and as a critic for filmcrave. Had the privilege of viewing this before anybody did before thru pre-screening tickets with my son. So much nostalgia ran thru my mind such as viewing the first Star Wars with my cousin on betamax. During the opening the crowd erupted with joy, showing that this is another piece of history. Only in a few weeks of opening it has broken records. It was nice seeing the original cast. What's nice is that they made 3 interesting characters and a loveable cute droid. Action was fast, cinematography was splendid, sound and effects as always top-notch, acting was decent and storyline of course interesting for old and new fans. It felt like we had a better perspective of the ever famous Tie Fighter and Stormtroopers unlike before. We see the enigmatic Han Solo and faithful chewy. Again, a cool villain had little screen-time in the presence of Captain Phasma (much like Boba Fett or a Darth Maul).

What pains to see for me, since social media and the internet has so much influence, is that people are trying to dissect the flaws of the film. Finn had the humour and earnest humanitarian personality after witnessing a massacre of innocent people. We see a huge potential in Rey and another cool and dark villain in Kylo Ren. If only the screenplay was better since the original trilogy had so many life relating quotes that can be utilized in reality.

Yes it is somewhat a reboot of Star Wars, from the similar story and usual plot twists. Still, the main themes are still about internal conflict, friendships and of course the force. The film was enjoyable from start to finish since it had enough humour, action and drama for a sci-fi flick. Besides, this sci-fi film is way better than the recent science fiction movies like the too philosophical Interstellar or the Castaway version in Mars The Martian. Its difficult to find a very good sci-fi film these days. Aside from the enormous fandom and history behind it, Star Wars: The Force Awakens is a good film especially compared to the dreary Episode I and II from the prequels. I'm definitely excited with Episode VIII since the film will focus on Luke Skywalker, a personal iconic figure on film. The only cool characters by far on this was Solo and Kylo. Guess they are prepping Finn to be the next Han for his humor.

With or without the hype or popular George Lucas, it was a spectacular ride which builds up to the next mysterious instalment. Better than the prequels but not at par with the original trilogy. After viewing this for the 2nd time with the whole fam it occurs to me that it was so much better the 2nd time around. It just brings back fun, excitement, internal conflict, romanticsm, new friendships and identity into the enigmatic franchise.