3.5/4

N/A

1.5/4

3.5/4

2/4

2/4

4/4

2.5/4

2/4

3.5/4

3.5/4

3/4

3.5/4

2.5/4

3/4

1/4

4/4

4/4

3.5/4

4/4

3.5/4

4/4

3/4

4/4

3/4

Next 25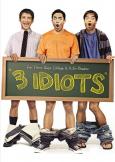 3 Idiots
3 Idiots review
4/4 stars
This reviewer was totally surprised with the overall movie despite looking at the subtitles and dance numbers. Highly entertaining than the fairytale like Slumdog Millionaire. It can be a source to make your day brighter. A story of 3 friends taking up Engineering Farhan Qureshi (R. Madhavan), Raju Rastogi (Sharman Joshi) and Ranchoddas Shamaldas Chanchad "Rancho" (Aamir Khan) at Imperial College of Engineering (ICE). Farhan dreams of being a wildlife photographer but is resistant in pursuing his dreams because of his strict father. Raju hopes of becoming the breadwinner but lack the resources. Rancho is the carefree but shy romantic who gives advice.

The dialogue was surprisingly witty. One of many great lines: Farhan – "Most of us went to college just for a degree. No degree meant no plum job, no pretty wife, no credit card, and no social status. But none of this mattered to him, he was in college for the joy of learning, he never cared if he was first or last." Rancho/Phunsukh Wangdu – "He is a moving price tag! He will always keep you reminding of price of every single object he bought. Your life will become a supermarket!" "Make your passion your profession."

The music, screenplay, direction and performances were astonishing. There may have been some impossible scenes like the baby suddenly coming to life when the positive words were blurted or jumping of 3 stories high without any physical deformity after. Nevertheless, this type of picture was immensely entertaining not only because of its script, but also the costumes and locations. The movie felt like a huge artistic canvass in the last 5 minutes and humor was inexorable. Truly the production and impact was overwhelming since it became the highest-grossing Bollywood film of all time in India and overseas. A personal favorite quote which symbolizes the whole film - "All is well." Not your typical corny songfest infused Bollywood flick, 3 Idiots will make you laugh, smile and maybe shed a tear with its powerful scenes. Themes of mental/peer pressure, respect, acceptance, educational style, life, friendship, learning, love and hope were tackled. A masterpiece can be enjoyed more during repeat viewings.
.