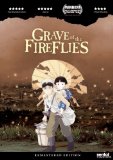 Grave of the Fireflies ( Hotaru no haka )
An Extraordinary Film
4/4 stars
Grave of the Fireflies is a poignant tale of two orphans suffering during war and how hard times can harden hearts. At times, my tears flowed freely, and, even during lighter moments, the shadow of death did not stray far. The film reminded me of "Life is Beautiful" with the child protagonists' determination to draw upon the joy of existence even amidst helpless suffering.

Don't be deterred by the "anime" genre. This is an extraordinarily moving film.