2.5/4

3/4

2.5/4

0.5/4

3/4

0.5/4

3/4

2/4

1.5/4

4/4

3.5/4

2.5/4

0.5/4

0.5/4

3/4

1/4

1.5/4

3/4

3/4

2.5/4

3/4

3/4

2/4

2.5/4

2.5/4

Next 25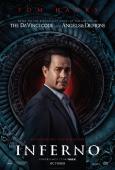 Inferno (2016)
A Tepid Inferno
2.5/4 stars
Exactly what motivated Sony to make a third instalment for a franchise that was more zeitgeisty than Kony 2012 is a far more captivating mystery than anything Dan Brown, in all his unsuppressed fatuousness, has ever conceived. Certainly, I enjoyed those first two films (well, maybe just the extended cut in the case of 'The Da Vinci Code'), but then blockbuster lineups are not predicated on my many-faceted whims and fancies. If this film was to be the exception, that is deeply regrettable, as I found this film hollow and lacking in thrills. It tries so hard to be frantic and nail-biting, but ultimately just comes off as pathetically desperate.

You can imagine Ron Howard, with the scathing Da Vinci reviews echoing through his mind with words like 'turgid', 'meandering', and 'dull', resolving to make this one as fast and furious as possible, dammit! Problem is, he arguably did that already with Angels & Demons, and when the critical consensus proclaimed that that film too was lackluster - albeit rather exciting on a superficial level - he concluded that, rather than the fault being with Dan Brown's diabolical writing, it must be because he just wasn't getting the thrills down to pat. Well, let me assuage your feelings of inadequacy, Ronnie. You've already done the best you could with Brown's material. Indeed, your work here is not too shabby, with some nice visuals and your talent for coaxing good performances from actors forced to play underwhelming characters shinning brighter than the Anti-matter bomb from Angels & Demons. But you are clearly tired, and right now the only other Brown book left in the Robert Langdon series for you to adapt is The Lost Symbol, and it would be doing a service to all of humanity to make sure that atrocious 528-page anti-climax of a book is never, EVER adapted. I say, call it a day.

Oh, to Irrfan Khan, congratulations on making such a dull character enjoyable. And have no fear. Eventually the Hollywood big-wigs will start actually giving you good parts.