1.5/4

2/4

1/4

2/4

2/4

3/4

1.5/4

2.5/4

1.5/4

0.5/4

0.5/4

2/4

3.5/4

1/4

2/4

1.5/4

2.5/4

0.5/4

1.5/4

2.5/4

3/4

1/4

2.5/4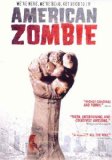 American Zombie
Beyond awful
0.5/4 stars
This was just.. bad. It's listed as comedy/horror. It wasn't funny. Or scary.
Why was this movie made? It kinda, sorta, if you tilt it the right way has something resembling a plot. I think. The characters are annoying. The "climax" is anti-climactic; you don't give a crap about the story or any of the characters for there to be an actual climax. The climax for me was the credits rolling.
Having my wisdom teeth removed (awake) was more entertaining and less painful than sitting through this movie.
Can I have my ninety minutes back?