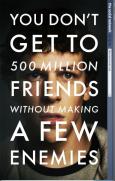 The Social Network
Lives up to the hype
3.5/4 stars
I saw it the weekend it came out and I really enjoyed it. The writing and the cast were excellent. What people have to remember, although the plot of the movie is based on true facts and a true story, it is embellished for film. It is not a documentary.

The story itself is interesting and the dialogue really gives the film a great pace. The story is told as a recall from three different points of view as the deposition which all the events lead up too.

As interested as I was in seeing this film, I was afraid of the hype for it but I believe the hype is justifiable. The film is a great film whether you are interested in the creation of Facebook or not. If Facebook was fictional, this would still be a great film. I recommend it.