3.5/4

4/4

3/4

2/4

1.5/4

1/4

2/4

3/4

0.5/4

3.5/4

2/4

1.5/4

3/4

3.5/4

0.5/4

1.5/4

3.5/4

3/4

3.5/4

2.5/4

2/4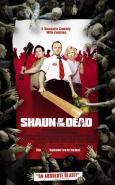 Shaun of the Dead
Zombies, Zombies, Zombies
2.5/4 stars
Shaun of the Dead was better than I thought the film was going to be, but most of the time I was bored, staring at the screen waiting for something to happen.

The story follows Shaun, a worker at an appliance store, who lives with his two roommates, a serious worker and a lazy bum. The first part of the movie is slow, showing Shaun's relationships with his girlfriend, his roommates, and his step-father. The humor for this portion of the movie is mild, but it's still there, with Shaun and his lazy roommate making quick jokes about nothing. Most of these jokes aren't memorable until after Shaun's girlfriend breaks up with him. After the break-up, the story begins to pick up. Zombies begin to take over the area and Shaun is the leader of his zombie survival group. The jokes begin to pick up a bit more through the later part of the series, but the humor is still mild.

The characters in the film are enjoyable, along with the way that they interact. Each character has their own, distinct personality, which makes some scenes awkward and others pure enjoyment. Even the zombies seem to have their own way of doing things, even though most of them act in a large group.

Overall, Shaun of the Dead is alright. The humor is a bit mild, but I wouldn't mind seeing the movie again. I've always had this weird fondness for zombie movies.