3/4

3/4

2.5/4

1.5/4

3/4

3/4

3.5/4

3/4

3/4

3/4

3/4

3/4

3.5/4

3/4

3/4

3/4

3/4

3/4

3/4

3/4

3.5/4

3/4

3/4

3/4

3/4

Next 25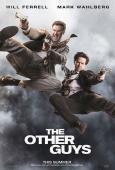 The Other Guys
I'm like a peacock, you gotta let me fly!
3/4 stars
In a year of very few decent out and out comedies, The Other Guys feels like an oasis in a vast desert of mediocrity.
A buddy movie about a couple of mismatched cops is hardly ground-breaking yet the chemistry between Will Ferrell and a surprisingly good Mark Wahlberg ignites the screen. A high laugh quota (yes, a few gags miss-fire but isn't that always the case), high octane action scenes and a reasonably decent plotline help to propel "The Other Guys" to "Anchorman" like status.
An uneven, crude and spotty movie it may be, but the Other Guys unquestionably stakes a claim as one of the comedies of the year.