3/4

3/4

2.5/4

1.5/4

3/4

3/4

3.5/4

3/4

3/4

3/4

3/4

3/4

3.5/4

3/4

3/4

3/4

3/4

3/4

3/4

3/4

3.5/4

3/4

3/4

3/4

3/4

Next 25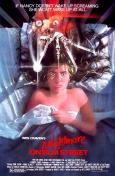 Nightmare on Elm Street, A (1984)
"Whatever you do, don't fall asleep."
3/4 stars
Wes Craven had already shocked and repulsed audiences with his controversial Last House on the Left (1973) which was a semi remake of Ingmar Bergman's The Virgin Spring (1960). He had also introduced cannibalistic in-breds in the cult classic "The Hills Have Eyes (1977) before hitting pay-dirt with the introduction of deformed and psychotic child murderer Freddy Krueger.
A Nightmare on Elm Street followed a similar plotline to Halloween and Friday the 13th in the fact that American teenagers are brutally hunted down and murdered by a lone madman.
Nightmare is a simplistic, dare I say it formulaic movie which transcends its low budget slasher roots. It has an innovative style, a likeable cast and a villain who has gone down in movie history.
Toying with any number of sub texts, this is a movie which grabs the audience's attention, plays with your emotions and downright scares the hell out of you.
Its impact scarred by too many mediocre sequels, A Nightmare on Elm Street still remains one of the best "jump out of your seat" horror films ever made.