2/4

2/4

3/4

3.5/4

3/4

3/4

3.5/4

2.5/4

2.5/4

3.5/4

3/4

2.5/4

3/4

2/4

2.5/4

3.5/4

3/4

2/4

3/4

2/4

2.5/4

2/4

3/4

3/4

3.5/4

Prev 25 | Next 25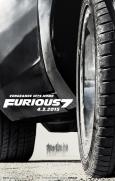 Furious 7
One Last Ride
3.5/4 stars
The Fast and the Furious series has certainly evolved over the years. If Furious 7 turns out to indeed be the final film in the series, it leaves us with on a high note. The death of Paul Walker nearly derailed the entire project, but I have to say, the way they finished the film, including a wonderful tribute in the finale, really shows how these actors came together - much like the family they always talk about in the movie.

Furious 7 technically takes place after the events in Tokyo Drift. The black sheep of the Furious films always felt a little off - but, once again, they manage to incorporate it back into this film, including bringing back Lucas Black for a nice cameo. As we saw at the end of Fast Six, Owen Shaw's brother, Deckard (the always welcome action star Jason Statham) is a bit upset about his brother's condition. Enough to take out an entire hospital, infiltrate the FBI and even nearly take down the impressively-muscled Agent Hobbs (Dwayne Johnson) and his maybe-now girlfriend Elena (Elsa Pataky) in the first of many impressive fight scens.

Turns out Deckard is a ghost - a man hired to do all the jobs the governement doesn't want you to know about - a black-ops expert - who is on the run and very good at what he does. Mr. Nobody (Kurt Russell - still giving off that Snake Plisskin vibe and cool-as-a-cucumber attitude) finds out Deckard is going after Dominic Toretto (Vin Diesel) and his crew and thus gives him a proposition. A hacker responsible for a key piece of software that essentially lets you track anybody anywhere in the world (kind of like the software in The Dark Knight) is being transported in the Caucuses to a black site - and needs to be broken out. If they are successful they can use the software, dubbed "God's Eye' to find Deckard and wipe him out. Of course, her agrees and the mission is on.

Now, the last two Furious films have taken action to a new level - at times almost too unbelievable. It makes for great action, but also takes you out of the film. Furious 7 does tone things down a bit - but it has its share of questionable moments - from a car careening down a mountain to jumping a luxury sports car between building to GPS-enabled parachuting cars. It's still over-the-top crazy, but it's still a lot of fun - better than the last film in my opinion. Plus, we finally get back to Race Wars! The first time since the original film - and even freakin' Hector shows back up.

Which brings us to Walker - using a bit of CGI, some stunt doubles (including two of his brothers) and editing, he is still a big part of the film. I'm sure you an tell certain scenes where they worked their magic, but really, it was very well done. And it ends on a surprisingly emotional note - the final scene is very poignant for films that usually rely on questionable physics and amazing fights. It's the tribute Walker deserved and though it may seem somewhat confusing to those who don't know the Furious series, or about Walker's death (yes, those people exist - if not now, wait about 10 years), I found it quite a nice way to send off the character.

Speaking of good fights - Furious 7 has some of the best. Both Statham and Johnson get a great fight (featuring the return of The Rock's finishing move - The Rock Bottom), Statham has a fight with Diesel wielding big metal objects of hurt and, my favorite, MMA star Ronda Rousey has an excellent throwdown with Letty (Michelle Rodriguez) that has to be considered one of the best girl-on-girl fights in movie history. Even Walker gets a great fight - with a parkour extravaganza featuring Tony Jaa (in his first English-speaking role).

All in all, if you've been a fan of this series, Furious 7 is a great way to cap the series. Even if you haven't followed it, Furious 7 is still an excellent all-around action film with decent characters, lots of edge-of-your-seat moments and a large amount of heart. They even leave things open for more - but it remains to be seen if they will continue on without Walker. If not, this is certainly the best ending they could have hoped for.