3.5/4

3/4

2.5/4

2/4

3/4

1.5/4

2.5/4

4/4

2.5/4

3/4

1.5/4

3/4

2.5/4

1/4

2.5/4

3/4

0.5/4

3/4

3.5/4

3.5/4

3/4

3.5/4

3/4

4/4

2.5/4

Next 12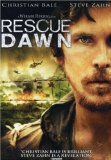 Rescue Dawn
very well done
3/4 stars
outside of the quality of the movie, i was most impressed by how much weight bale was able to lose. he looked near death! and though its old hat now, i'm still always impressed by his american accent. I agree with alex, this is a very good movie. I especially liked all the jungle scenery.

one thing I didn't buy, however, was in the latter part of the movie when they're heading for the big muddy--supposedly they're still starving but they pass by banana or plantain tree clusters every 5 minutes. Believe me, after passing that many banana trees, they'd have found some ripe enough to eat raw or boil. I'd bet that in the real event, they didn't pass by that many banana trees--that was a scenery error.

the weakest part of the movie was then end; though he had hallucinations of his friend, after he was found, the film portrayed him as forgeting all about him. similarly, i would have liked more info at the end on the known (or unknown) fate of the other prisoners and what happened to his friend's remains.