2/4

3/4

2.5/4

2.5/4

3/4

2/4

2.5/4

3/4

2/4

2.5/4

3.5/4

0.5/4

2.5/4

2/4

2.5/4

2.5/4

2.5/4

2.5/4

3/4

2.5/4

2/4

3.5/4

3/4

3.5/4

2.5/4

Next 25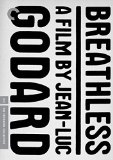 Breathless ( À Bout de souffle )
Jean-Luc Godard goes shooting a film
4/4 stars
Jean Seberg as Patricia Franchini was absolutely perfect.
And the dashing Jean-Paul Belmondo. This film defines French New Wave, especially since all the collaborators on it were major parts of the New Wave. Well, this film rips off the ending to Marcel Carne's Quai des Brumes, but somehow got away with it. It's still one of the best movies ever made, even though Jean-Paul Belmondo's character really doesn't talk to women (Jean Seberg as Patricia) too nicely.

The movie uses the word "déguelasse" at least three times, each time with an extraordinary amount of care.