2/4

2.5/4

3/4

2/4

2.5/4

1.5/4

3/4

2.5/4

3.5/4

3.5/4

3.5/4

2.5/4

0.5/4

1.5/4

2/4

0.5/4

2/4

3/4

3/4

2.5/4

3/4

3/4

3/4

1.5/4

3/4

Prev 25 | Next 25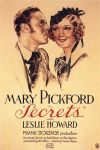 Secrets (1933)
Secrets (review may contain spoilers)
3/4 stars
Frank Borzage has done it again. It starts out with John (Leslie Howard) and Mary (Mary Pickford), a young couple in love. John comes from nothing and Mary's snotty rich parents do not approve. Over time and hardship, they prove their love. They escape their snooty home back east and head for the west and face off with outlaws. Many years pass and John is back in the east running for governor. Unfortunately, he had a fling and the other woman threatens to ruin his reputation. However, Mary stands by him and they are stronger than ever.

Then, like they barricaded themselves from the outlaws, they barricade themselves from their children about 50 years later. They are about to retire and spend more time with just each other, but the children do not approve.

A charming and heart-warming tale, it really got to me. Frank Borzage gives us an incredibly skilled and mature story of love (he was around 40 when this film was released). You won't find a movie like this in today's theaters, so thank goodness for Turner Classic Movies.