4/4

3.5/4

3/4

2/4

3/4

2.5/4

3/4

3/4

2/4

3/4

2/4

2/4

2.5/4

3/4

3/4

2/4

3.5/4

2.5/4

3/4

3.5/4

3/4

2.5/4

0.5/4

2/4

2.5/4

Next 25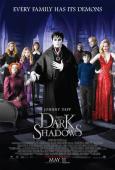 Dark Shadows
Great Ingredients, Disappointing Results
2/4 stars
Before there was 'Twilight'; before there was Buffy; and before there was Anne Rice; there was Barnabas. Dreamed up (literally) by creator, Dan Curtis, the original dark, gothic serial cum soap-opera had a television run of about 6 years back in the late 60's. I guess I wasn't the only teenager running home after school to see what dreadful events were befalling the residents of Collinwood. Despite the failure of a 1991 reboot, Director, Tim Burton, had decided he would like to do a feature film that played off the original cast and story. Enter his favorite choice for leading man, Johnny Depp (himself an avowed 'Dark Shadows' fan) and you have the initial ingredients for this movie.

I was hoping Mr. Burton's effort would reflect some of the gothic horror of the original 'Dark Shadows', but after looking at some vintage clips of the series, I realized the TV show wasn't quite the way I remembered it. From dreadful acting to less than ideal production values, the show was less horror and more horrible than I had recalled. Funny how close to 40 years can color your memories of such things? At any rate, in true Burton fashion, what we do end up with is something that is unexpected – and certainly not pleasing to all.

We start out with a quick flashback to the childhood roots of Barnabas and his family's move to Maine in the 'New World' of the late 1700's. There's another quick jump to his fleeting love interest in a young chambermaid, Angelique, and her diabolical reaction to his eventual rejection of her. There is some vague inference as to what causes Barnabas to become a vampire and we see the tragic loss of his true love, Josette. At this point, Barnabas is forced into a sealed coffin and dropped into a forgotten grave. Fast-forward to 1972 and some unfortunate workmen stumble across the coffin and release this very thirsty vampire.

The story then moves to the now declining fortunes of the Collins family and their business. When Barnabas unexpectedly appears at Collinwood, he vows to return the family to prosperity. The only problem is (other than he's a vampire) that Angelique is still around and anxious to inflict more suffering on Barnabas and his family.

Depp is great as the 18th century throwback, Barnabas Collins. His mannerisms and accent stay spot-on through out the story. His nemesis, Angelique is played with evil charm by Eva Green ('Casino Royal'). Michelle Pfeiffer stars as the modern-day Collins family matriarch, Elizabeth Collins Stoddard. Helena Bonham Carter is the family's psychiatrist, Dr. Julia Hoffman. The original Barnabas, Jonathan Frid, puts in a cameo as well as 70's Goth-rock icon, Alice Cooper. These actors and the rest of the cast do as well as the script will allow, but the story fails to maintain a specific direction because of some of the sub-plots and the film suffers for that. There are also a couple late plot-twists that come off as too contrived.
This is the eighth Burton/Depp pairing; previous projects were 'Edward Scissorhands' (1990), 'Ed Wood' (1994), 'Sleepy Hollow' (1999), 'Charlie and the Chocolate Factory' (2005), 'Corpse Bride' (2005), 'Sweeney Todd: The Demon Barber of Fleet Street' (2007), 'Alice in Wonderland' (2010). I'd say 'Dark Shadows' fails to match the witty and visually stunning 'Alice In Wonderland', and doesn't quite measure up to the endearing and creative 'Edward Scissorhands'. While Burton, and writer Seth Grahame-Smith, play the story mostly straight, there are a number of random attempts at humor, both slight and overt, that gives this film a very uneven feel. There are a number of interesting visuals and special effects, but with a schizophrenic direction, 'Dark Shadows' doesn't know if it's a comic send-up or true thriller. Had Burton saw fit to take this in just one of those two directions, I feel the results would have been that much better.