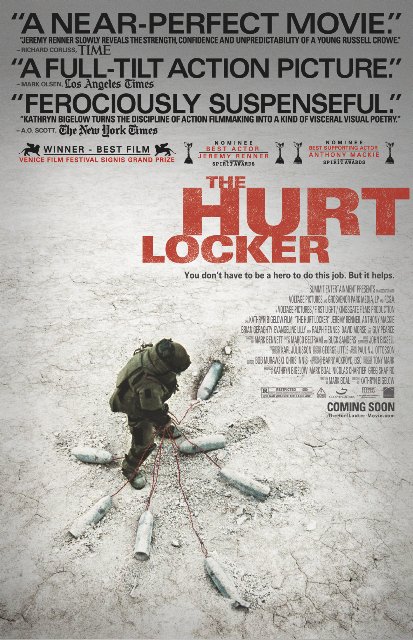 The Hurt Locker
A Riveting Must-See
MovieMike - wrote on 12/22/11
'The Hurt Locker' is a soldier's eye view of the current war in Iraq and follows a team of U.S. Military bomb technicians in an Explosive Ordinance Disposal Unit as they serve out their final 40 days in that country. Director, Kathyrn Bigelow ('K-19: Widow Maker', 'Point Break', 'Blue Steel', and 'Near Dark') chose to film this in a cinéma vérité style; giving her work the look & feel of a documentary. This approach works much better here than the stylized special effects and slow motion sequences that have been routinely applied to other similar films. The result is a very graphic, in your face, presentation of conditions on the ground for the soldiers being depicted here.
According to author, Mark Boal (who was an embedded journalist in Iraq for two weeks in 2004), the title, 'The Hurt Locker', refers to the place you'll end up if the bomb you're working on goes off. As the story begins to unfold, we are introduced to a new team leader, Staff Sergeant William James, played by Jeremy Renner ('The Assassination of Jesse James'). Sgt. James has a quirky ritual of collecting souvenirs. Each of these souvenirs comes from one of the 800+ devices he has disabled that could have killed him. Renner's portrayal is both cool and intense. His actions invite both scorn and respect from the other two members of his team. That team is rounded out by Anthony Mackie ('Eagle Eye', 'We Are Marshall') as Sergeant JT Sanborn, and Brian Geraghty ('Jar Head', 'We Are Marshall') as Specialist Owen Eldridge. While Sgt. Sanborn is a by the book, play it safe type of soldier, he conflicts constantly with James' cowboy approach to their mission. Specialist Eldridge is the one member who is openly struggling to maintain his sanity in all these brushes with death.
Bigelow also treats the viewer to a number of cameo appearances by several actors. Sgt. Matt Thompson played here by Guy Pearce ('Traitor', 'The Time Machine'), starts the story out as the team's leader. His early demise serves to immediately punctuate the hazards of the tasks at hand. We also see Ralph Fiennes ('In Bruges', 'The Constant Gardener') as the leader of a military contract team that gets pinned down in the desert. David Morse ('The Negotiator', The Green Mile') does a quick turn as a gung-ho Colonel that praises Sgt James actions and methods, much to the dismay of the rest of his team.
Reminiscent of Ridley Scott's 'Black Hawk Down' (2001), 'The Hurt Locker' appears very realistic, but instead of capturing a specific scenario, we get a focused look into three individuals dealing with the pressures of their situation over the course of time. I think it also gives the viewer a better feel for what conditions must be like for our real-life troops who are currently serving duty in this war. The film wasn't 100% perfect for me, however. I thought the use of a military counselor doing a ride-along with the team was very cliché and all too predictable.

I noted that this movie was actually a 2008 release and 'The Hurt Locker' has spent some time on the Film Festival circuit prior to it's very recent nation-wide release. I was disappointed to see it has yet to catch on with moviegoers (not even in the current top ten) and hope it gets the attention it deserves. To be sure, this film has several violent and graphic scenes and is not for everyone, and the 'R' rating should be respected for any parent even considering this film for a teenager. For those of you who are trying to get a better sense of what this war is really like, 'The Hurt Locker' delivers.