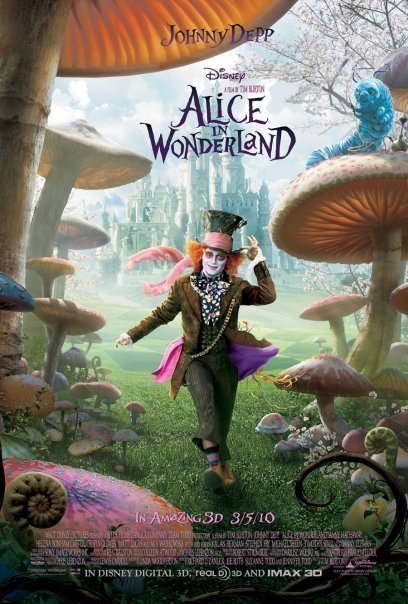 Alice in Wonderland (2010)
Tim Burton Magic
MovieMike - wrote on 12/22/11
I just had to wonder what would happen if you mixed the nonsensical writings of Lewis Carroll with the off-beat directorial imagery of a film director like Tim Burton ('Corpse Bride', 'Nightmare Before Christmas'). Fortunately for moviegoers, we get something that is a true visual buffet that could only be dreamed up by Mr. Burton and a story that still manages to maintain the whimsy of Carroll's original work.

While titled 'Alice In Wonderland', the plot is actually derived from Carroll's follow-up work, 'Alice Through The Looking Glass'. Writer, Linda Woolverton ('Artic Tale', 'Lion King'), picks and chooses those elements from each of Carroll's works that make this a more coherent tale, but still makes a point of carrying along most of the absurdity we are familiar with. While mostly amusing, this tale does still have a dark side with a number of stabbings and a beheading – so be warned before thinking this is something for very young children.

Although I'm not familiar with Mia Wasikowska ('Amelia', 'Defiance'), I was impressed with the way she portrayed the central character. Burton gives us an Alice that questions the social mores around her while also making the difficult transition to adulthood – all in a Victorian-age society. Mia's performance is spot-on and treads a delicate balance of seriousness amongst all the foolishness going on around her. Of course, the film also stars Johnny Depp ('Pirates of the Caribbean', 'Public Enemy'), who could be considered the 'bank' for this picture. His Mad Hatter character carried a lot more depth than I would have thought possible and Depp effortlessly slides between insanity and pseudo-seriousness. Helena Bonham Carter is also amazing as the Red Queen and delivers the line, "Off with his head!", with just the right zeal. The effect of her enlarged head is quite amazing all by itself.

I actually saw this in the non-3D format, and could see where the added effects might have given this a bit more visual boost, but was mostly pleased with the normal format. One area where there was a bit of a problem is with maintaining a consistent sense of scale. While Alice does execute a number of growing and shrinking cycles, the transitions weren't always as smooth as I would have expected. There were also a couple bloopers I noted, but you'd really have to be looking for them to pick them out.

All in all, I'd have to say this is Tim Burton's best offering to date. The portrayals of all the generated characters (like Tweedle-Dee & Tweedle-Dum, and the March Hare) all feel right and the make-up for these characters (especially Depp) really adds to the look and feel of the movie. It also doesn't carry as much of the darkness as his two noted earlier works. So if you're planning to see this, don't be late, don't be late, for that very important date!