4/4

3.5/4

3/4

2/4

3/4

2.5/4

3/4

3/4

2/4

3/4

2/4

2/4

2.5/4

3/4

3/4

2/4

3.5/4

2.5/4

3/4

3.5/4

3/4

2.5/4

0.5/4

2/4

2.5/4

Next 25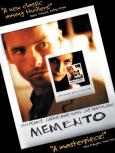 Memento
Unforgettable Effort By Chris Nolan
4/4 stars
I have to confess to this great affinity for films that are considered 'off-beat'; 'Fargo' (1996) is a personal favorite. In addition to that gem, the Coen brothers have provided us with other great titles in this genre, such as 'Raising Arizona' (1987), 'The Big Lebowski' (1998), and 'No Country For Old Men' (2007). There are a few other directors who've worked in this category; Quentin Tarantino, whose directorial credits include 'Reservoir Dogs' (1992) and 'Pulp Fiction' (1994), immediately comes to mind. Other films of this type seem to have been one-shot entries for directors such as John Herzfeld, who offered us 'Two Days In The Valley' (1996). Director Chris Nolan made his initial foray into the genre with his first full-length feature film 'Following' (1998). He followed that up with what I consider to be one of the best (but less appreciated) films that are part of this category, 'Memento' (2000).

Lets start with the film's premise. What if you lost the ability to form any new memories? I'm not talking about "Where are my keys?" or "Where did I leave my glasses?" type memory lapses – I mean full-blown anterograde amnesia. This is a real medical condition that is either brought on by cerebral trauma or can potentially be drug-induced. The disease itself is still being studied and is not well understood, but researches have learned that afflicted patients do suffer from varying degrees of forgetfulness. Taken as a concept for a film, most Hollywood-type directors would opt for an easy application; case in point: 'Fifty First Dates' (2004), a light comedy. Fortunately for those of us who prefer something a bit more thought provoking, we have 'Memento'.

'Memento' started out as a short story written by Chris' brother, Jonathan, titled 'Memento Mori'. Both Chris and Jonathan took the original concept & character and added a complex story line where the main character (suffering from the aforementioned condition) is trying to avenge the brutal murder of his wife; an attack that also led to his current condition. Guy Pearce ('L.A. Confidential', 'Traitor') plays this lead character, Leonard Shelby, to full effect. Employing a set of memory aids, such as notes, Polaroids (with even more notes on them), and a freaky set of tattoos, Leonard works diligently at his task during every waking hour. Supporting him in his mission is Teddy Gammell, played by Joe Pantoliano (numerous acting credits include 'Running Scared', 'La Bamba', and 'The Matrix'), whose motives are never quite clear. But then, there's much here that isn't obvious, hence this film requires your full attention and has to be viewed several times to catch all the details that director Nolan has packed into this offering.

Beyond the quirky premise, Nolan also took a bold step in how the movie is edited. To accentuate the memory angle, he has chose to present his story in short scenes, but these scenes are arranged in reverse order. While some may find fault with this (or even be annoyed by it), I felt that it really gives the film a signature touch and makes it even more intriguing. There are DVD editions that I believe offer the ability to play the scenes in order, but I don't feel that gives any added value if you're looking for something that is unusual to start with. Chris Nolan has gone on from this movie to helm other great films such as 'Insomnia' (2002), The Prestige (2006) and the two latest Batman films, 'Batman Begins' (2005) and 'Dark Knight' (2008).

I really liked the fact that this film can generate a lot of conjecture, and the story doesn't follow some overused plot line. Given Leonard's condition, we, as the viewer, have to question everything his character believes to be true. There are many great tag lines, and some wry observations on reality, both perceived and remembered. One quote from Leonard (on burning some mementos from his wife) sums up his situation: "Probably burned truck loads of your stuff before. Can't remember to forget you." Whether you agree this film is great, average, or lousy, I can guarantee you won't forget it!