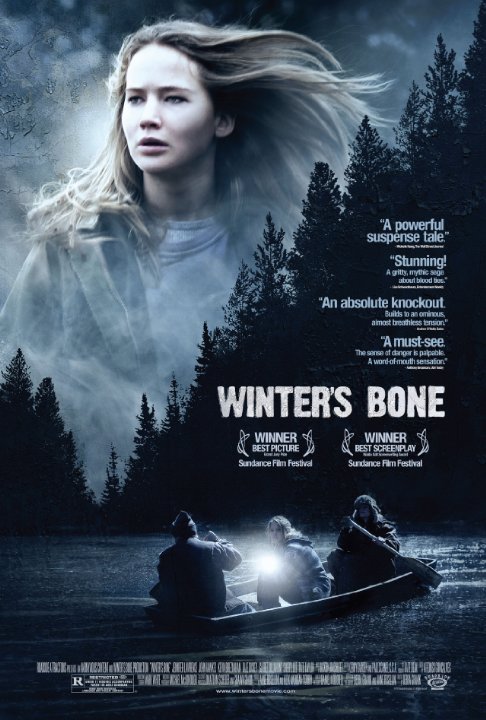 Winter's Bone
Jennifer Lawrence Great Performance
MovieMike - wrote on 12/22/11
Seventeen-year-old Ree Dolly has a problem. She's stuck trying to manage a run-down household that consists of her ailing Mom, two younger siblings, an absent father, and no income to support them. That problem becomes minor when Ree learns that her meth-cooking Dad has put up their home and land for bail - and is now nowhere to be found. Things come to a head when Ree is told she has just days to produce Jessup (her father) or face eviction. She attempts to follow what little trail Jessup has left behind with no idea of the dangers that await her.

Winter's Bone is an independent film directed by Deborah Granik who shared screenwriting credits with Anne Rosellini, the latter also doing double duty as producer. The film is derived from the Daniel Woodrell novel that carries the same title. With a running time of approximately 100 minutes, the movie follows the book very closely, leaving out only a few scenes that have little impact on the main story. Granik leads the viewer through the hillbilly subculture of southern Missouri, taking care to not only show the level of poverty and the ravages of the methamphetamine trade, but to also share some of this region's musical heritage (which I understand was provided by actual locals that appear in the film).

Jennifer Lawrence gives a powerful performance that belies her years. Her character is perceptive and extremely determined, but a lot of what Ree doesn't know is also evident. Being the focus of almost every scene, Jennifer's portrayal is consistent and as believable as anything I've ever seen. I'm not sure how much sway 'Winter's Bone' will have come Oscar time, but it would be truly a shame if Jennifer Lawrence didn't at least receive a nomination spot for this effort. Some may recognize Lawrence from the cable sitcom, 'The Bill Engvall Show', but the rest of the cast is not from your typical casting list. John Hawkes appears as Ree's menacing Uncle, Teardrop, and Dale Dickey gives a tough-as-nails performance as one of the distant relatives Ree ends up crossing paths with.

I do have one issue with this otherwise fine project. Whether by intent, or due to the constraints of an independent film budget, the entire film is shot using close-in camera shots. The effect, for me, was a somewhat claustrophobic view of the surroundings. I think a number of scenes would have benefited from a larger perspective. As an example, having no car, Ree often resorts to walking fair distances to continue her quest, but the viewer gets no sense of this in the movie.

Other than that, 'Winter's Bone' will draw you in and leave you thinking well after the film is over. As bleak as Winter's Bone tends to be, you can't help but admire Ree for her sense of obligation and her refusal to back down in the toughest of situations. If you're looking for a Hollywood ending, you won't find it here; but what you should find is a glimmer of hope.