3.5/4

4/4

3/4

3.5/4

3/4

4/4

3/4

2.5/4

3/4

4/4

3/4

4/4

3.5/4

3/4

4/4

2/4

4/4

2.5/4

3.5/4

4/4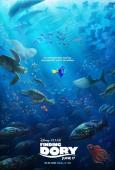 Finding Dory
A pleasant surprise
4/4 stars
A sour look crossed my face as my friends and I pulled into the parking lot of the Rave Theater in Little Rock. While I wanted to lose some sleep over "The Conjuring 2," the rest of my friends had their sights set on the newest Pixar flick.

Bitterly inhaling my package of raspberry sour straws, I slumped into my seat and made a valiant attempt to dislike this movie. However, much like with last year's "Inside Out," Pixar won me over yet again with "Finding Dory."

Ellen DeGeneres reprises her role from "Finding Nemo" as Dory: a kind, easygoing blue tang fish who suffers from short-term memory loss. All is well under the sea until Dory randomly experiences a flashback from her childhood of her and her parents. Remembering that she was separated from her family long ago, Dory races off to find her parents, relying only on her poor memory to guide her.

While this film is not a retread of "Finding Nemo," it provides a few nods to the original, and many of the characters from "Nemo" return in supporting roles or cameos. The film also implements the voice talents of Idris Elba, Ty Burrell and Sloane Murray, who plays an adorable baby Dory in the flashbacks.

The most interesting character addition, however, is that of Hank, played by Ed O'Neill. The irritable, pessimistic, yet kind-hearted octopus warms up to the spastic, forgetful nature of Dory, and their interplay throughout elevates the film's drama and humor.

Is it as good as "Finding Nemo?" Perhaps, but much like "Monster's University" in 2013, "Finding Dory" differs in many ways from its predecessor and compliments it well. With sequels like "Cars 3," (2017) "Toy Story 4" (2018) and the highly anticipated "The Incredibles 2" (2019) on the horizon, I am eager to see where Pixar takes our imaginations next.