3.5/4

4/4

3/4

3.5/4

3/4

4/4

3/4

2.5/4

3/4

4/4

3/4

4/4

3.5/4

3/4

4/4

2/4

4/4

2.5/4

3.5/4

4/4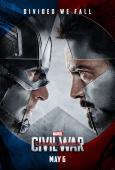 Captain America: Civil War
A new chapter in Marvel's cinematic universe
3.5/4 stars
Eight years ago, Marvel took the reigns of the superhero genre with "Iron Man." Twelve films later and Batman, Superman and the X-Men are still playing catch up. With both the comic book fan and casual moviegoer in the palm of its hand, Marvel could have played it safe with this one. A run-of-the-mill action fest would have brought in the dough, while also entertaining the masses. But, yet again, Marvel showed us why it's number one.

"Captain America: Civil War" poses a question that may have crossed your mind while watching "The Avengers" or "Age of Ultron": in the midst of the mind-blowing action taking place on screen, how many innocent civilians were killed?

Within the first half hour of the film, the Avengers are shown footage from major events in past Marvel movies, but rather than enjoying a shot of the Hulk smashing a few aliens into a building, the heroes see pieces of that building crush a bystander filming the chaos from his phone. Instead of watching Captain America throw his mighty shield, they are treated to the lifeless eyes of a woman caught in the crossfire of superhero and super villain.

Shortly following this, Earth's mightiest heroes are presented with a document, called the Sokovia Accords, which states that the Avengers must place themselves under the command of the United Nations or retire. Tony Stark signs. Steve Rogers doesn't, ultimately pitting the two heroes against one another and leaving the rest to choose a side.

While technically a Captain America story, "Civil War" plays out more like an Avengers 2.5, which works in the film's favor. The Russo brothers mesh the darker tone of "Captain America: The Winter Soldier" with the humor of "Guardians of the Galaxy," masterfully balancing a plethora of characters new and old. The dialogue is thought provoking, the action is spectacular and the performances have never been better.