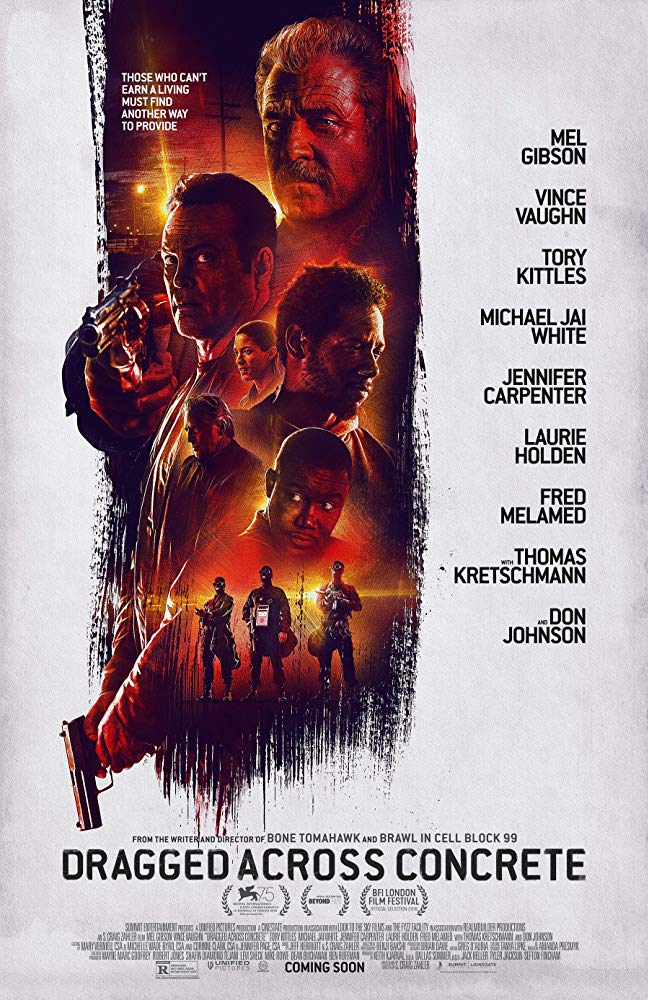 Dragged Across Concrete
Slow nasty cop flick that lives up to its title.
Indyfreak - wrote on 05/16/19
Director S. Craig Zahler's gritty and hardboiled crime drama depicts Mel Gibson and Vince Vaughn as two suspended cops deciding to get rich at the criminal underworld's expense. Zahler's camerawork and direction feels very much like Michael Mann or David Mamet. The characters swap off-color jokes before waxing philosophically for five minutes.
The mood is nihilistic and the action is often grisly bone crunching stuff. But given the film's length, and Zahler's penchant for speechifying, it takes a while to get from one setpiece to the next. To describe this movie as methodical is saying something. There's a lot of long takes and the action is often shown in w/o many cuts. This is refreshing for a change.
Gibson and Vaughn are good together. They're tasked with playing remorseless and sometimes even racist cops with questionable morals-and make us root for them. Usually. Long time character actor Tory Kittles makes a strong impression with his performance as the ex-con roped back into crime. Surprisingly effective work is done by Jennifer Carpenter in a small but memorable part.
It's certainly gloomy with a harsh if not downright fascistic outlook. It's very similar to movies like HEAT or DEN OF THIEVES. But the conclusion and watching the subplots come together was interesting.