2.5/4

3/4

3/4

2/4

3/4

2.5/4

3/4

1.5/4

2/4

2/4

1.5/4

2.5/4

3/4

3/4

2/4

2/4

3/4

3/4

2.5/4

2.5/4

1/4

3/4

3/4

1.5/4

1/4

Next 25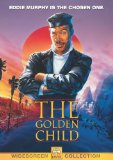 The Golden Child
Watch 'BIG TROUBLE IN LITTLE CHINA' instead.
1.5/4 stars
It's really just not that funny or exciting. Eddie Murphy takes a strange side venture in this comedy/fantasy/adventure about a social worker (Murphy) who gets wrapped up in a quest to rescue a magical child from a demonic villain (Dance).
Murphy has his moments, the highlight being a test of character involving a cup of water and a bottomless pit. But he lapses between being the comic relief or the straightman It doesn't help that his exotic sidekick Charlotte Lewis is not a good actress, although she's very pretty. Charles Dance seems to know the movie's garbage but he's genuinely intimidating. Victor Wong provides some welcome humor as a crass version of the cliched "wise old man".
There really isn't much action aside from some fight scenes and by the third act, the movie expects us to take it seriously. By then it's too late. THE GOLDEN CHILD is for Eddie Murphy purists only.