3/4

3.5/4

3/4

3/4

1.5/4

2.5/4

3/4

1.5/4

3/4

1.5/4

3/4

3/4

1/4

2.5/4

1.5/4

3.5/4

2.5/4

2/4

3/4

2.5/4

3/4

1/4

3/4

1.5/4

3/4

Next 25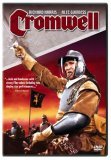 Cromwell

2/4 stars
Overly long if lavishly produced biographical epic about the controversial military leader Oliver Cromwell, who assumed command of Parliamentary forces during the English Civil War.
The costume design looks great; they actually won an Oscar for it in 1970. Its attention to detail proves its undoing as an exciting war film as it is more focused on 17th century politics than battle scenes.
Richard Harris is good as Cromwell, though he's abit less complicated than the real life figure whose less admirable qualities included rabid anti-Catholicism and dictatorial ambitions.