2/4

2.5/4

1.5/4

3/4

2/4

3.5/4

1/4

3/4

3.5/4

3/4

3/4

1.5/4

2.5/4

3/4

1.5/4

3/4

1.5/4

3/4

3/4

1/4

2.5/4

1.5/4

3.5/4

2.5/4

2/4

Next 25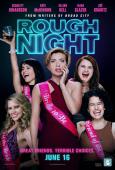 Rough Night
Film's title is unintentionally appropriate.
1/4 stars
Mainly because 'Rough Night' is an obnoxious and often unfunny comedy in that subgenre which wants to be dirty and nasty. But it also wants that happy Hollywood ending too. So a lot of gross stuff happens for no real reason. Admittedly, I sat through 'ROUGH NIGHT' for lecherous reasons. The female leads all look lovely and do sexy things even if it's stupid;at one point Zoe Kravitz has a threesome that includes Demi f**king Moore.
And while they're pretty, a few of the cast members were annoying like Kate McKinnon (unfunny fool strikes again) and Jillian Bell who's saddled with the role I believe would be assigned to Jonah Hill if the genders were swapped. Ironically, some of the supporting cast wind up more interesting such as Demi Moore as aforementioned, Johansson's love interest, and a villainous gang of thieves that masquerade as strippers. These legit funny characters and situations are few and far in between the crass nonsense you have to sit through.
If you want a raunchy comedy about women gone crazy that's GOOD, go see BRIDESMAIDS or anything that has Amy Poehler or Tina Fey in it.