2/4

3.5/4

1/4

3/4

3.5/4

3/4

3/4

1.5/4

2.5/4

3/4

1.5/4

3/4

1.5/4

3/4

3/4

1/4

2.5/4

1.5/4

3.5/4

2.5/4

2/4

3/4

2.5/4

3/4

1/4

Next 25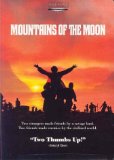 Mountains of the Moon (1990)
Epic Story of Obsessive Quest in Darkest Africa
3.5/4 stars
Director Bob Rafelson recreates the epic journey of explorers Richard Burton and John Speke as they search for the elusive source of the Nile River during the 19th century. Patrick Bergin and Iain Glen both give excellent performances as the two very different men who must work together to survive the treacherous African wilderness. It features superb cinematography and location footage of the great plains of Africa.
There is suspense and action to the proceedings to satisfy adventure hungry viewers. It is as much a story about the fragility of friendship as it is of the dangers of exploration and the hubris that comes with both.
Fiona Shaw (Aunt Petunia from Harry Potter) gives a strong performance as Burton's wife Lady Arundell. Bernard Hill gives a humorous performance as legendary explorer Doctor Livingstone.
'Mountains of the Moon' is the rare modern historical film that is as much a character driven story as it is an exciting adventure saga.