1.5/4

3/4

2/4

2.5/4

3/4

3/4

2/4

3/4

2.5/4

3/4

1.5/4

2/4

2/4

1.5/4

2.5/4

3/4

3/4

2/4

2/4

3/4

3/4

2.5/4

2.5/4

1/4

3/4

Next 25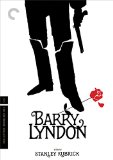 Barry Lyndon
One of the loveliest looking movies ever made.
3.5/4 stars
Stanley Kubrick's award winning period drama is one of the most beautifully created films I've seen. The cinematography, the lighting, the costume design, the sets, and the picture itself is amazing.
Ryan O'Neal plays the title character, an ambitious social climber who wishes to escape his poor Irish roots and enter the upper echelons of European nobility in the mid 1700s. He fights in various wars and duels while gambling and romancing his way to fortune.
Like the direction, the acting is stately and refined. The helpful narration is often sarcastic and darkly comical. While the acting is more reserved and not quite as emotional as similar but more melodramatic films, the characters do not lose their human qualities. Barry Lyndon himself is a very flawed, naive, and sometimes even ruthless character;it takes a likable actor like Ryan O'Neal all his talent to make him the least bit sympathetic. As a picaresque narrative, characters come and go but the international cast does fine.
The pacing and unromantic depiction of aristocratic life may be a turn off for some. But for those with patience, it's not just a treat but a treasure.