1.5/4

3/4

2/4

2.5/4

3/4

3/4

2/4

3/4

2.5/4

3/4

1.5/4

2/4

2/4

1.5/4

2.5/4

3/4

3/4

2/4

2/4

3/4

3/4

2.5/4

2.5/4

1/4

3/4

Next 25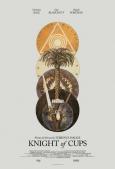 Knight of Cups
Terrence Malick make another two hour collage
1/4 stars
I get it, Terrence Malick. Greed is not good. That point was made with Oliver Stone's movie WALL STREET over 30 years ago and countless other dramas set against the cutthroat environment that is big business.
It's one thing to make a movie with such a cast; there's over a dozen A listers in this besides Christian Bale who plays the lead. It's another to film the movie in such a way that entire scenes are near impossible to figure out the geography and the characters' position. Oddly, the movie looks nice. Glossy and expensive like Hollywood should look like.
I am well aware that Terrence Malick is a controversial director among film buffs. That he's accused of being all style and no substance and being too experimental and artsy for its own sake. I don't dislike it when Malick does something strange to make his films unique. But there's a point where it does just become excessive, like the lecherous habits of Bale's remote and aloof protagonist. It's one thing to be artsy but it's another to become a parody of your own signature style but remain unaware of it.