1/4

3/4

3/4

1.5/4

1/4

2/4

3.5/4

3.5/4

3/4

1.5/4

2.5/4

3/4

1/4

3/4

2/4

0.5/4

1/4

3/4

3/4

2.5/4

2.5/4

1/4

1.5/4

3/4

2.5/4

Next 25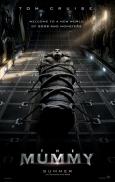 Mummy, The (2017)
The Mummy (2017) is not really about a mummy.
2/4 stars
Alex Kurtzman has been a screenwriter for so long that one wonders why he hasn't helmed a film as a full fledged director. His debut 'The Mummy' shows why unfortunately. He displays minimal competence as an action director but when it comes to storytelling, he chooses to include every idea possible. Further making 'The Mummy' more bloated than it has to be is the constant exposition. Watching 'The Mummy', audiences will be surprised how much of the plot actually deals with the set up for the future films for Universal Studios' planned monster movie shared universe.

Due to its shortcomings and an overly complicated but bloated plot, 'The Mummy' is an only mildly entertaining B-movie horror/adventure in the vein of 'Van Helsing' (2004) or the 'Hellboy' movies and yes, the 1999 Mummy film with Brendan Fraser. Though not quite as good. Tom Cruise is a solid but odd fit as the treasure hunter that accidentally awakens a vengeful mummy seductress (Sofia Boutella). He and a pretty archaeologist (Wallis) is subsequently enlisted by a covert organization dedicated to studying and combating monsters. We only know this because its leader happens to be Dr. Jekyll/Mr. Hyde (Russell Crowe having a ball) explains so in detail.

Alex Kurtzman does show he can stage an interesting action scene at times. The plane crash scene featuring Cruise in zero gravity is well done and there's a suspenseful underwater bit featuring zombie crusaders (they really do throw everything but the sink in this). But then other scenes seem chaotic and unfocused, like a lot of Kurtzman's own screenplays (It needed to be said). It does help that the movie does not take itself that seriously (to a point) and does have its humorous moments. None of which come from Jake Johnson who sounds like solid casting as the comic relief sidekick but really, he's annoying and whiny.

It should be noted the entire Mummy movie series as a whole have been variations of other separate properties for better or worse. The 1932 black-and-white original film was a blatant ripoff based on Dracula and I always found it overrated. The same goes for the 1950s Hammer Horror version with Christopher Lee since they scored similar success with Lee's own Dracula movies. And the popular Brendan Fraser series lifted liberally from Indiana Jones, as much as I do like those films. Alex Kurtzman and the trio of writers that penned the script cynically decided to aim for an Avengers styled setup for their monster movie franchise. But forgot to make a movie first. '

The Mummy' (2017) ends up being a collection of scenes and ideas for a movie and the followup sequels. Some work and others don't.